STETHOSCOPE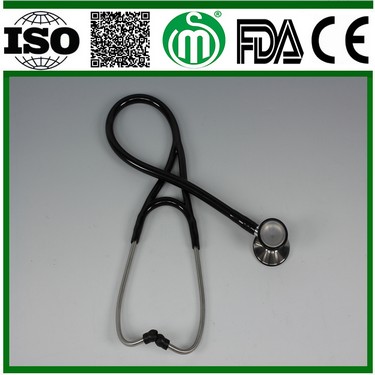 1SM3304 STAINLESS STETHOSCOPE
1.stethoscope with single head and double head
2.ISO and CE
3.OEM packing accepted
We can supply different sizes of medical tethoscopes.
Single head, dual head, multi-purpose types.

*patented chest piece design
*outstanding acoustics
*patented tunable diaphragm
*two-tubes-in-one design
New Sprague Rappaport Stethoscope With Watch
Congratulations on the purchase of Sprague Rappaport Stethoscope.
Sensitivity 3.6 dB in a range from 50-500 Hz for cardiology.
Sensitivity 8.6 dB in a range from 600-1500 Hz for peneumology
Sprague Rappaport Stethoscope is designed to detect the entire range of heart and chest sounds. It is five stethoscopes in one for a full range of diagnostic capability that is clinically proven to deliver more faint heart sounds and murmurs than other stethoscopes. Worldwide, it is the most popular stethoscope on the market and the choice of the medical professionals.
Chest piece: Equipped with a full rotational Dual-Output Acoustic Valve Stem, all components are individually machined and precisely assembled. Strict tolerance control and improved valve mechanism ensure smooth valve rotation and accurate acoustic transmission. The Chest piece enables users to switch between adult and pediatric-sided Diaphragms/Bells with ease and interchange both side of the chest piece with adult and pediatric Chest piece fittings (2 Diaphragms and 3 Bells) to meet medical professionals specific diagnostic requirements.
Other features include a comfortably angled, anatomically correct headset, excellent acoustic seal and comfortable fit with patented soft ear tips, and tubing in attractive colors to meet individual preferences.


Recommended
1SM4408 EAR THERMOMETER

MORE

1SM4407 BABY DIGITAL THERMOMETE

MORE

1SM4406 FLEXIBLE DIGITAL THERMO

MORE

1SM4405 CARTOON DIGITAL THERMOM

MORE

1SM4404 NORMAL DIGITAL THERMOME

MORE

1SM4403 ANUS THERMOMETER

MORE

1SM4402 OXTER THERMOMETER

MORE

1SM4401 ORAL THERMOMETER

MORE

1SM3304 STAINLESS STETHOSCOPE

MORE

1SM3303 MULTIFUNCTIONAL STETHOS

MORE

1SM3302 STETHOSCOPE WITH DOUBLE

MORE

1SM3301 STETHOSCOPE WITH SINGLE

MORE

1SM2204 MERCURIAL SPHYGMOMANOME

MORE

1SM2203 DIGITAL BLOOD PRESSURE

MORE

1SM2202 ANEROID SPHYGMOMANOMETE

MORE

1SM2201 CLOCK -TYPE ANEROID SPH

MORE

1SM7014 STAINLESS STEEL HANDLES

MORE

1SM7013 SURGICAL KNIFE AND PLA

MORE

1SM7012 STITCH CUTTER

MORE

1SM7010 STAINLESS STEEL SURGICA

MORE

1SM7009 CARBON STEEL SURGICAL B

MORE

1SM7008 MEDICAL ULTRASOUND GEL

MORE

1SM7007 DISPOSABLE ECG PAPER

MORE

1SM7006 DISPOSABLE ECG ELECTROD

MORE

1SM7005 DISPOSABLE CERVICAL SCR

MORE

1SM7004 WOODEN TONGUE DEPRESSOR

MORE

1SM7003 IDENTIFICATION BRACELE

MORE

1SM7002 DISPOSABLE UMBILICAL CO

MORE

1SM7001 MEDICINE TABLET BAG

MORE

1SM6021 DRAINAGE TUBE

MORE

1SM6020 GUEDEL AIRWAY

MORE

1SM6018 ANAESTHESIA MASK

MORE

1SM6017 NON-REBREATHING OXYGEN

MORE